mercury 25
The Mercury 25 HP EFI outboard motor 25ELH model is a tiller steer outboard with a 20-inch long shaft, electric start, and manual tilt. The 25ELH delivers consistent, easy starting, crisp throttle response, increased fuel economy, and outstanding overall performance. Great for aluminum tiller, aluminum console, jon, utility, and fish & ski boats. Known for reliability, and fast acceleration, the 25 HP EFI portable outboard by Mercury is an affordable option especially considering the long list of standard features and the Mercury 3-year warranty.
Utilizes a three-cylinder engine design, delivering superior balance performance over twin-cylinder designs
Compact and powerful
Offers extra displacement and great low-end torque, putting the boat smartly on plane
Electronic fuel injection delivers easy-starting, crisp throttle response and increased fuel economy
Engine protection operator warning system including: low oil pressure, over-rev, overheat and sensor failure
Three year warranty
In The Box

Fuel Tank (6.6 gallon)
Quick Connect Fuel Line
Mercury 3-Year Warranty
Mercury 4-Stroke Oil
Owner's Manual & Tool Kit
PROPELLER NOT INCLUDEDNew Mercury 25 EFI Four Stroke Tiller Outboard 1A25311KK

Delivers consistent, easy starting, crisp throttle response, increased fuel economy, and outstanding overall performance. Great for aluminum tiller, aluminum console, jon, utility, and fish & ski boats.
A new portable outboard is proof that Mercury Marine has not focused all of its engineering efforts on ever-larger, more powerful motors. This is good news for freshwater anglers, tender owners, sailors and others in the market for an outboard that's modest in size but loaded with new technology and convenience.
Mercury 25/30 EFI FourStroke
Electronic fuel injection is a standard feature on the new Mercury (www.mercurymarine.com) 25/30 EFI FourStroke models, even those with manual (rope) starting. No other manufacturer offers EFI at this horsepower rating. These outboards share a new 526cc three-cylinder powerhead which replaces the 747cc powerhead that powered the previous and now discontinued 25 BigFoot and 30/30EFI FourStroke models.
The smaller powerhead makes these new motors more compact and significantly lighter than the models they replace. Dry weight for the lightest examples of the new 25/30 FourStroke is just 163 pounds, compared to 204 pounds for the old 30 FourStroke. For comparison, the Suzuki DF30 weighs 209 pounds. For further comparison, the old two-stroke Mercury Classic 25, discontinued after 2005, weighed just 114 pounds. That's what I call portable.
But unless I had to really carry it on my back, I'd never trade a quiet, clean-running four-stroke for that old-school two-stroke. Especially now that EFI is available on these motors. The precise fuel delivery of EFI not only helps lower emissions, it also produces quick, easy starting and much better fuel economy, probably 30 to 40 percent better than a two-stroke. What's great about the new EFI system on these motors is that it does not require a battery. There are two separate and independent charging systems under the flywheel. One side creates juice to actually run the motor, powering the computer, the electric fuel pump, the fuel injectors and sensors on the motor. The other side simply charges the battery on electric-start models. When the starter rope is pulled, a charge is stored in a capacitor until there is enough energy available to power the ignition. When the motor's cold, this generally takes two pulls on the rope, and the motor will start instantly on the third tug.
Of course, there's no choke to fumble with, and you'll never flood this motor. If the motor was recently shut down, it will usually start on the first or second pull. A new tuned induction design muffles intake noise so well that at trolling speeds the motor is almost silent.
All models of the Merc 25/30 FourStroke will come equipped with the manual starter, so if the battery goes dead, it's possible to start an electric-start model with the rope and motor home, even if the battery is disabled for some reason. Automatic decompression means pulling the rope is a two-finger proposition, too, which makes these motors a good choice for a kid's first skiff, or for anyone who's had trouble yanking the rope in the past.
Other features include a powerful 15-amp alternator and the same shift-in-handle control feature introduced years ago on smaller Merc portables — instead of moving a lever to shift to gears, you simply twist the throttle grip back past neutral. New cowl styling makes these motors look like baby Verados. All models are available with 15- or 20-inch shafts. You choose between tiller and remote control, gas-assist or power trim. You can also get the 25 EFI FourStroke with a jet drive. Pricing starts at $3,360 and includes a three-year warranty and a 6.6-gallon portable fuel tank.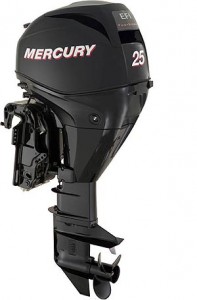 Displayed here in standard lower unit/propeller dress, the Mercury 25/30 EFI FourStroke features a new tuned induction design that muffles intake noise.
| | |
| --- | --- |
| MODEL | 1A25311EK |
| MODEL YEAR | 2020 |
| SKU | 25ELH-20EFI |
| WEIGHT | 171.0 lb |
| MANUFACTURER | Mercury |
| COUNTRY OF MANUFACTURE | Japan |
| HORSEPOWER | 25hp |
| SHAFT LENGTH | 20″ (Long) |
| STEERING | Tiller |
| STARTING | Electric |
| TRIM & TILT | Manual |
| FUEL DELIVERY | EFI |
| FUEL TANK | External |
| CYLINDER(S) | 3 |
| DISPLACEMENT | 526 Cubic Centimeter |
| BORE AND STROKE | 2.40 x 2.36 in. (61 x 60 mm) |
| FULL THROTTLE RPM RANGE | 5,000 – 6,000 |
| IGNITION SYSTEM | CDI with electronic spark advance |
| INDUCTION SCAVENGING | SOHC |
| VALVES PER CYLINDER | 2 |
| FUEL TYPE | 87 Octane (up to 10% ethanol content) |
| OIL TYPE | Mercury 4-Stroke Outboard Oil |
| ALTERNATOR | 15A, 186W |
| COOLING SYSTEM | Water-cooled with thermostat |
| GEAR RATIO | 1.92:1 |
| GEAR SHIFT | F-N-R Gearcase options – Standard |