suzuki 60 hp outboard
Suzuki 60 HP DF60ATL2 Outboard Motor
Engineered to deliver fuel-efficient operation in a compact and light weight design, the Suzuki DF60ATL2 utilizes many of the advancements that Suzuki has pioneered over the last decade. This three-cylinder engine with a four valve DOHC design is combined with Suzuki's Lean Burn Control System to deliver high-tech performance with efficient operation and top level fuel economy. New DF60ATL2 models also sport the optional Suzuki Troll Mode System.
Suzuki 60 HP Outboard Motor
Suzuki 60 HP outboard Motor | wholesale Suzuki  60HP outboard supplier | Cheap Distributor DF60ATL2 outboard Motor Engines supplier | Cheap Bulk Exporter Outboard Motor | where To Order HQ Outboard Motor supplier | Best Price Outboard Motor Online Near Me | Bulk Distributor outboard Motor Engines Online Near Me | Best Exporter  outboard Motor Engines. To Purchase 60 HP DF60ATL2 outboard Engines
Compact Design of suzuki 60 hp outboard
Suzuki engineers are known for creating some of the most compact four stroke outboards in their respective classes. With the DF60A, they started with a clean slate redesigning every part and component incorporating the knowledge and technical advancements gained over the last ten years to create even lighter, more compact outboards.
Lean Burn Control System
To get the most out of every drop of fuel, Suzuki engineers developed the Lean Burn Control System on the DF60A, which enables the engine to operate on a lean air-fuel ratio or a thinner mixture of fuel. The system controls the air to fuel mixture by predicting fuel needs according to operating conditions. It delivers its benefits over a wide operating range providing significant improvements in fuel economy from low speed operation well up into the cruising range.
Tilt Limit System
The DF60A is equipped with a tilt limit system that is designed to protect the boat from damage that can occur when tilting the outboard. The system incorporates a tilt angle sensor that functions as both a tilt limit and trim sender and uses a step-free, continuous type limiter that makes installation of the outboard possible on nearly any type of boat.
Cleaner, More Efficient Operation
With Suzuki's Easy Start System, featured on the DF60A, all you need to do is turn the key and release. The starter system does the rest, staying engaged until the engine starts. Smoother and improved starts delivered by the Easy Start System offer more efficient combustion, and greater fuel economy.
Mechanically Efficient Design
Suzuki engineers looked for ways to reduce mechanical loss as a way to improve efficiency in the DF60A. A specially designed oil pump delivers greater mechanical efficiency allowing oil to flow through the lubrication system with less resistance. This, combined with reduced mechanical loss in other areas of the engine contributes to better fuel economy.
Self-Adjusting Timing Chain
Suzuki's self-adjusting timing chain is featured on the DF60A which is the first outboard in the 44.1kW (60PS) class equipped with this maintenance free feature. The chain is oil-bathed and features an automatic hydraulic tensioner that keeps the chain properly adjusted at all times for maintenance free operation.
A REVOLUTION IN INNOVATION
The New DF60AV is designed with a "High Energy Rotation" lower unit sporting a 2.42:1 gear ration, which enables this new model to use a bigger 14″ propeller – perfect for powering pontoon boats and other large, heavy craft. This mid-range engine is also designed with Lean Burn Fuel Control System, which adjusts the air/fuel mixture according to operating conditions. The system significantly improves fuel efficiency across the operating range, from low speeds well up into the cruising range. New DF60AV model is also available with the optional Suzuki Troll Mode System.
SUZUKI LEAN BURN CONTROL TECHNOLOGY
Suzuki engineers developed the Lean Burn Fuel Control System, which adjusts the air/fuel mixture according to operating conditions. The system significantly improves fuel efficiency across the operating range, from low speeds well up into the cruising range.
SELF-ADJUSTING TIMING CHAIN
The timing chain runs in an oil-bath, so it never needs lubricating, and is equipped with an automatic hydraulic tensioner, so it remains properly adjusted at all times. Simple, effective and maintenance-free.
CLEANER, MORE EFFICIENT OPERATION
Suzuki utilizes a number of its advanced technologies to deliver cleaner, more efficient operation that conforms to the Recreational Craft Directive (RCD) – Directive 2003/44EC of the European Parliament and of the Council, and has received three-star ratings from the California Air Resources Board (CARB).

High performance 12-valve DOHC engine
High Energy Rotation delivers power to move heavy boats
Superior maneuverability, especially at low speeds
Suzuki's Lean Burn technology delivers top level fuel efficiency
Lightest and most compact outboards in the 44.1kW (60PS) and 36.8kW (50PS) high thrust classes.
According to in-house investigations as of July 2013.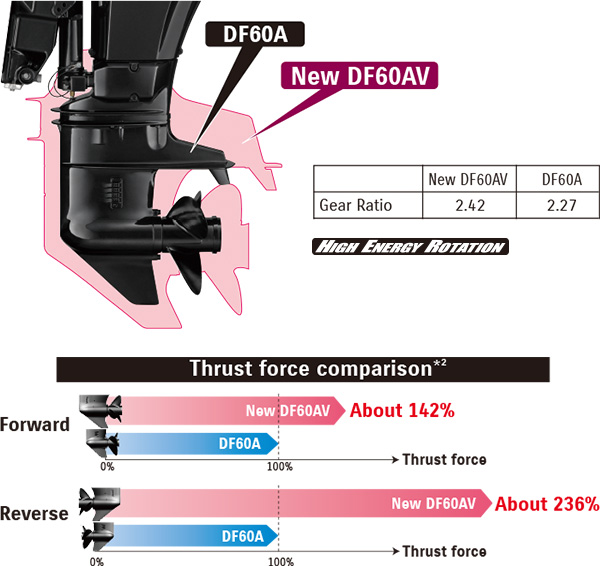 HIGH ENERGY ROTATION
The DF60AV/50AV are high thrust versions of the standard DF60A/50A featuring Suzuki's High Energy Rotation system. These outboards are equipped with lower units based on those found on the DF140A, specially engineered with a large 2.42 gear ratio that turns a bigger 14-inch prop. The system delivers a 42% increase in forward thrust and 136% in reverse providing the propulsion you need for moving heavy boats.* This design gives you more precise control when maneuvering, superior low speed handling, better hole shots, and plenty of power to move and maneuver with a heavy load. As you would expect, being from Suzuki, both of these outboards are designed from the ground up to be compact and lightweight. And when compared to other high thrust models in their respective power classes, each takes the title for being both the lightest and most compact.
*2:Thrust was statically measured using a stationary test boat running forward at 3,500rpm and reverse at 3,200rpm. Data was obtained through in-house testing under uniformed conditions. Results will vary depending upon operating conditions (boat design, size, weight, propeller size, weather, etc.)
Specification Attributes
HP
60 HP
Cylinders
3 Cylinder
Displacement
57.4 CI
Starting
Electric
Controls
Remote
Power Trim & Tilt
Power Trim & Tilt
Gear Shift
Forward – Neutral – Reverse
Propulsion
Standard Rotation
Weight
229
Alternator Output
19 Amp
Color
Nebular Black
Shaft Length
20"
Family Type
4-Stroke
Fuel Induction
EFI